Zoo Camp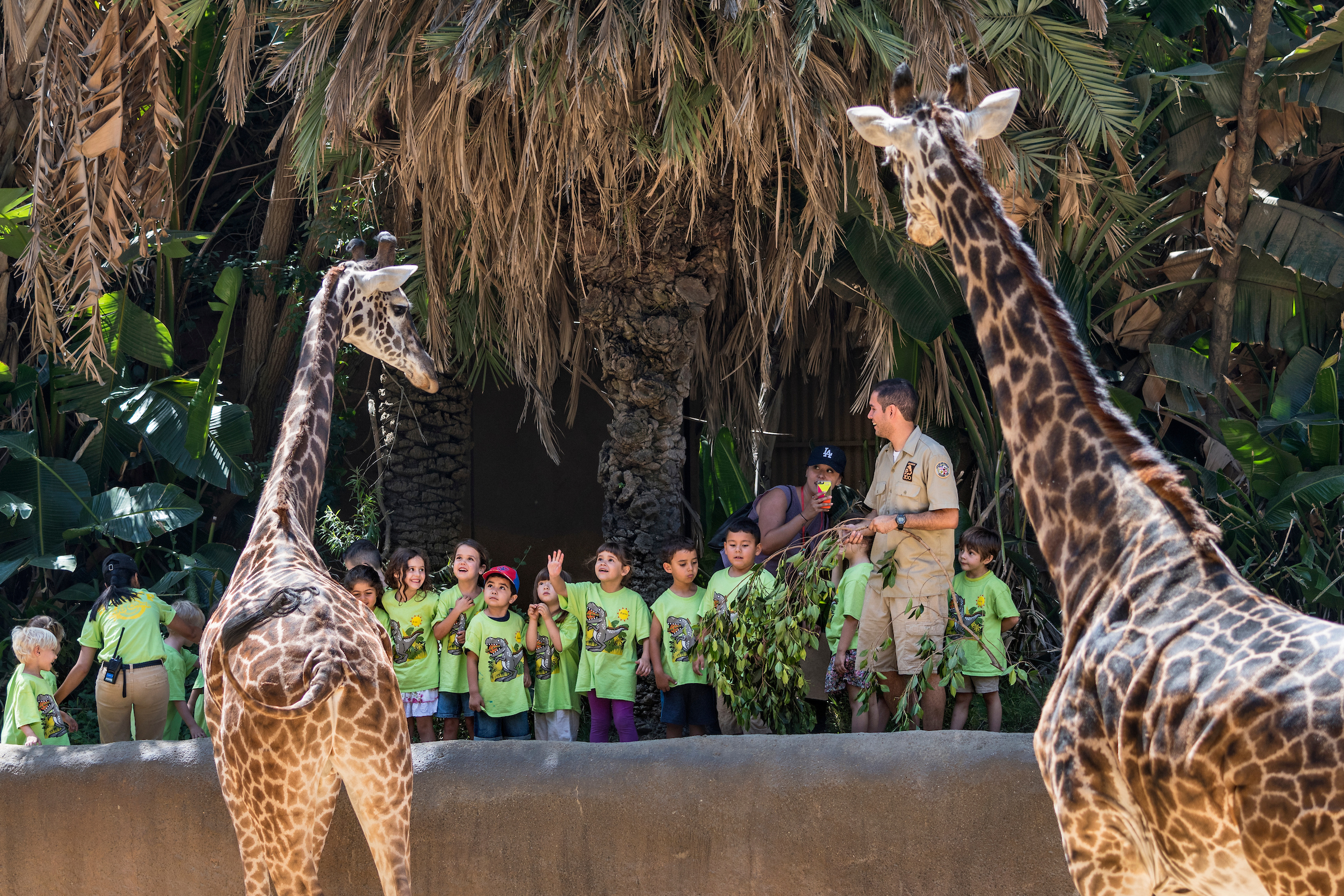 Zoo Camp Summer 2023
June 19 – August 11, 2023
All Zoo Camps for Summer 2023 are SOLD OUT
Price: $400 a week (Only Visa, MasterCard, or Discover accepted. No international cards accepted.) Members will receive 10% off General Registration (discount code can be found in the March Zooscape email).
Extended Care: $100 a week. Includes a.m. and/or p.m. (can attend either or both every day). Day-of extended care sign-ups are $20 per day
Zoo Camp Summer 2023 Schedule
| Entering Grade as of Fall 2023 | Week of June 19 – 23 | Week of June 26 – 30 | Week of July 3 – 7 | Week of July 10 – 14 | Week of July 17 – 21 | Week of July 24 – 28 | Week of July 31 – August 4 | Week of August 7 – 11 |
| --- | --- | --- | --- | --- | --- | --- | --- | --- |
| PreK-K | Down on the Farm | Painting Peacocks | Wild Imaginations | Zoo's Clues | Down on the Farm | Painting Peacocks | Wild Imaginations | Zoo's Clues |
| PreK-K | Zoo's Clues | Down on the Farm | Painting Peacocks | Wild Imaginations | Zoo's Clues | Down on the Farm | Painting Peacocks | Wild Imaginations |
| 1st–2nd | Animal Friends | Foodie Frenzy | Fearsome Fauna | Wilderness Trek | Animal Friends | Foodie Frenzy | Fearsome Fauna | Wilderness Trek |
| 1st–2nd | Wilderness Trek | Animal Friends | Foodie Frenzy | Fearsome Fauna | Wilderness Trek | Animal Friends | Foodie Frenzy | Fearsome Fauna |
| 3rd–4th | Animals at Play | Into the Amazon | Rebel Raptors | Behaving Wildly | Animals at Play | Into the Amazon | Rebel Raptors | Behaving Wildly |
| 3rd–4th | Behaving Wildly | Animals at Play | Into the Amazon | Rebel Raptors | Behaving Wildly | Animals at Play | Into the Amazon | Rebel Raptors |
| 5th–6th | Nature's Gallery | Habitat Happenings | Local Legends | Expedition Jaguar | Nature's Gallery | Habitat Happenings | Local Legends | Expedition Jaguar |
Class Descriptions
Pre K – K
Down on the Farm
Old MacDonald had a farm and so does the Los Angeles Zoo! Children adore farm animals, and on our farm, we have goats, sheep, and pigs. Come on down to our farm and get up close with these noisy barnyard animals and discover all the amazing things they do!
Painting Peacocks
Paint, sculpt, collage, and carve your way through a week of artistic fun. Crayons, clay, watercolors, and paint will help bring to life the Zoo's wild collection of plants and animals.
Wild Imaginations
Lights, cameras, action! Animals have inspired characters in tv shows and movies for over 100 years. Come with us as we compare real animals to their silver screen representations!
Zoo's Clues
Grab your notebooks as we head on a Zoo adventure! This week we will be finding clues to answer questions about our animal friends. Can you figure out Zoo's clues?
1st – 2nd
Animal Friends
Animals have helped humans for a very long time. Join us this summer to learn about the partnership between animals and people while discovering the many ways that animals help humans today!
Foodie Frenzy
Calling all foodies! This week we will be learning all about animal diets while we explore food webs, teeth, poop, and more!
Fearsome Fauna
Warning! Join us for a week of poisons, venoms, and the world's most dangerous animals and plants! Discover creatures that have deadly defense systems, poisonous plants that eat bugs, and more!
Wilderness Trek
Planet Earth is home to incredible, diverse creatures. During this expedition, we will discover which animals survive and thrive on each continent of our planet while exploring the animals that share our home in North America.
3rd – 4th
Animals at Play
Every day, all over the world, kids are running, jumping, chasing, hiding, seeking, swinging, and sliding. You know what? Animals everywhere are doing a lot of the same things! Join us as we discover the importance of animal playtime!
Into the Amazon
All aboard for the riverboat cruise! Glimpse some of nature's most colorful and bizarre plants and animals as we venture down the famous Amazon River. This week is filled with exciting animal discoveries from the heart of the South American rainforest.
Rebel Raptors
Get out your talons and rip into this week of raptor camp! Whether it's diving at top speeds to catch prey or building nets on the edge of a cliff, we'll discover what makes raptors the ultimate predators of the sky.
Behaving Wildly
How do you train a sea lion? How do you keep a bird busy? Learn how scientists study animal behavior in the wild and here at the Zoo. Practice making observations, collecting animal data, and creating enrichment items that will keep even the most mischievous monkey busy.
5th – 6th
Nature's Gallery
Let's get creative! Explore the Zoo with an artist's eye while learning about artists who have used nature for inspiration! Create your own Zoo inspired art using different mediums to express yourself!
Habitat Happenings
Condors in a condo? Snakes in a shack? Axolotl in an apartment? All living creatures have special places to live. Come explore the places that animals call "home."
Local Legends
Join us for a journey through the largest urban park this side of the Mississippi! This week we will learn all about the local animals and plants, while also learning about real (and not real) famous animals such as: P-22, Smokey the Bear, and more!
Expedition Jaguar
This week's adventure takes us into the rich rainforest of the Americas. We will be exploring the animals, plants, and cultures that live in this exciting habitat. Discover as we spend the week delving into the many layers that comprise this magnificent biome.
Zoo Camp Scholarship
Applications CLOSED for 2023
As a part of the Los Angeles Zoo's long-standing mission to make nature and animals accessible to the children of Los Angeles, we are proud to offer Summer Zoo Camp Scholarships for families with financial need. Zoo Camp is a week-long day camp offered for 8 weeks during the summer. Zoo Camp is for children independent of their parents and provides a safe, fun, and nurturing setting where they can focus on making friends with both campers and animals. We will hold a lottery if the number of applications received exceeds the awards available.