IT'S A GIRL! L.A. ZOO CONFIRMS THE SEX OF ITS CRITICALLY ENDANGERED WESTERN LOWLAND GORILLA BABY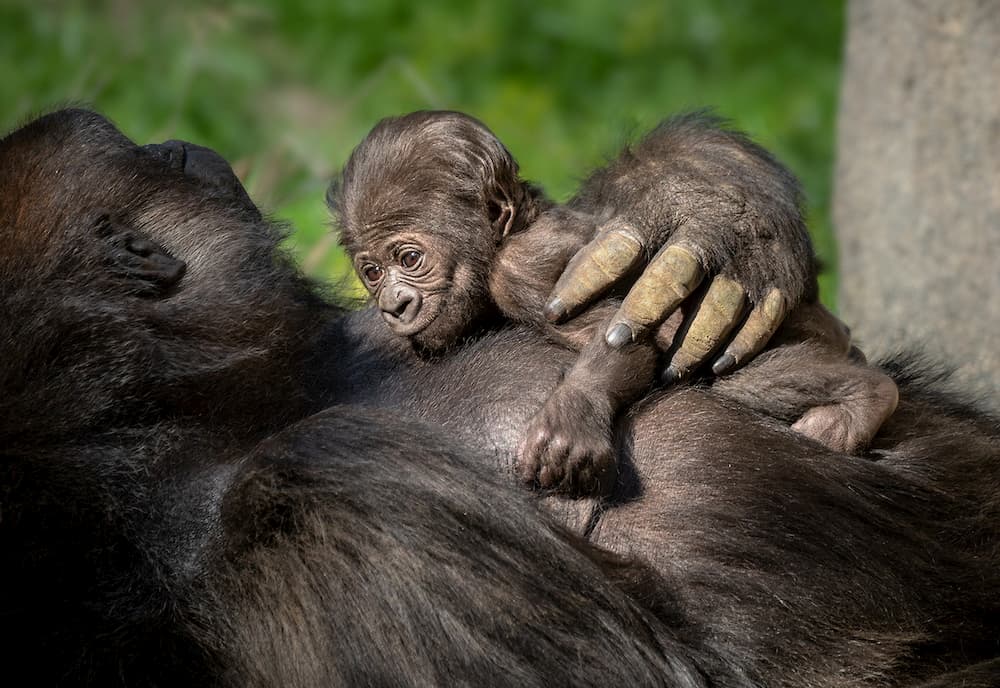 LOS ANGELES – Western lowland gorillas Kelly, 32, and first-time mother N'djia (en-JEE-uh), 25, had their first baby together on Jan. 18, 2020. After three weeks of bonding and clinging tightly to her mother, L.A. Zoo animal care staff were finally able to confirm the baby's sex as female. The Zoo feels very fortunate as the pregnancy and birth went extremely well, and the result led to a historic moment for the Los Angeles community as it is the first birth of a gorilla baby at the L.A. Zoo in over 20 years.
"The last few weeks have been so exciting watching first-time mom N'djia with her new baby," said Beth Schaefer, director of animal programs at the L.A. Zoo. "Having gorillas in our zoo is so important so we can connect Angelinos to the amazing biodiversity that exists on this planet and to help ensure that these beings will never go extinct. Like with humans, each mom and baby are different, so some are adventurous and test boundaries earlier, while others stay close for a longer amount of time. We hope guests are enjoying this journey as much as we are."
For the next four to six months, guests can expect to see the baby clinging to N'djia while nursing and observing her surroundings. Gorilla infants typically weigh about three to four pounds at birth and are expected to grow quickly. N'djia will carry her baby against her chest for the first several months until the baby can hang on her mother's back, which frees up N'djia's hands to walk and carry food. Kelly, the father, will provide a watchful eye over N'djia and their baby girl while the rest of the troop observes and remains at a respectful distance.
N'djia came to the L.A. Zoo in 2018 from the San Diego Zoo as part of a breeding recommendation through the Association of Zoos and Aquariums' Species Survival Plan (SSP) Program. After L.A. Zoo's animal care staff observed N'djia breeding with Kelly, they confirmed her pregnancy through a series of at-home pregnancy tests. After a gestation period of about 8.5 months, N'djia gave birth to a healthy female gorilla that will grow up at the L.A. Zoo for many years to come.
"Every birth is a celebration, both in zoos and in the wild," said Candace Sclimenti, curator of mammals at the L.A. Zoo. "We are thrilled about this baby because she will provide additional attention to this critically endangered species. The L.A. Zoo has the unique opportunity to teach the public about conservation and what they can do to save animals from the threats they are facing in the wild."
Western lowland gorillas are currently considered critically endangered in the wild due to illegal hunting, susceptibility to diseases such as the Ebola virus, and habitat degradation and destruction. Despite the fact that all killing, capture, and consumption of great apes is illegal, hunting for bushmeat is the primary reason for the western lowland gorilla's decline.
This species of gorilla is native to the lowlands and swamp forests of Cameroon, Central African Republic, Equatorial Guinea, the Democratic Republic of the Congo, Gabon, and Angola. These peaceful animals are social and live in stable, cohesive groups composed of one silverback adult male, several adult females, and their offspring.
Guests can visit the Campo Gorilla Reserve exhibit daily and may be lucky enough to see N'djia, Kelly, and their baby girl along with their companions Rapunzel (35) and Evelyn (43), weather permitting. For the latest updates on N'djia's birth story and her baby's development, follow along at @lazoo or #lazoo on Facebook, Twitter, and Instagram.
About the Los Angeles Zoo
Accredited by the Association of Zoos and Aquariums (AZA), the landmark Los Angeles Zoo and Botanical Gardens, drawing more than 1.8 million visitors each year, is home to a diverse collection of 1,400 animals representing 270 different species, 58 of which are endangered. Its lush grounds on 133 acres feature various plant species from around the world and California including many rare and endangered species. The Zoo is located in Griffith Park at the junction of the Ventura (134) and Golden State (5) freeways. Admission is $22 for adults and $17 for children ages 2 to 12. The Zoo is open from 10 a.m. to 5 p.m. daily. For information, call (323) 644-4200 or visit the L.A. Zoo website at www.lazoo.org.
About Species Survival Plan (SSP) Programs
An AZA Species Survival Plan® (SSP) Program strives to manage and conserve a select and typically threatened or endangered, ex situ species population with the cooperation of AZA-accredited institutions. SSP Programs develop a Breeding and Transfer Plan that identifies population management goals and recommendations to ensure the sustainability of a healthy, genetically diverse, and demographically varied population. There are currently nearly 500 SSP Programs, each managed by their corresponding Taxon Advisory Groups (TAGs), within AZA.
Author: LA Zoo