This is a low-waste event. By distributing event information digitally, we're eliminating the waste and energy consumption associated with printed maps. Thank you for your cooperation and understanding!
Map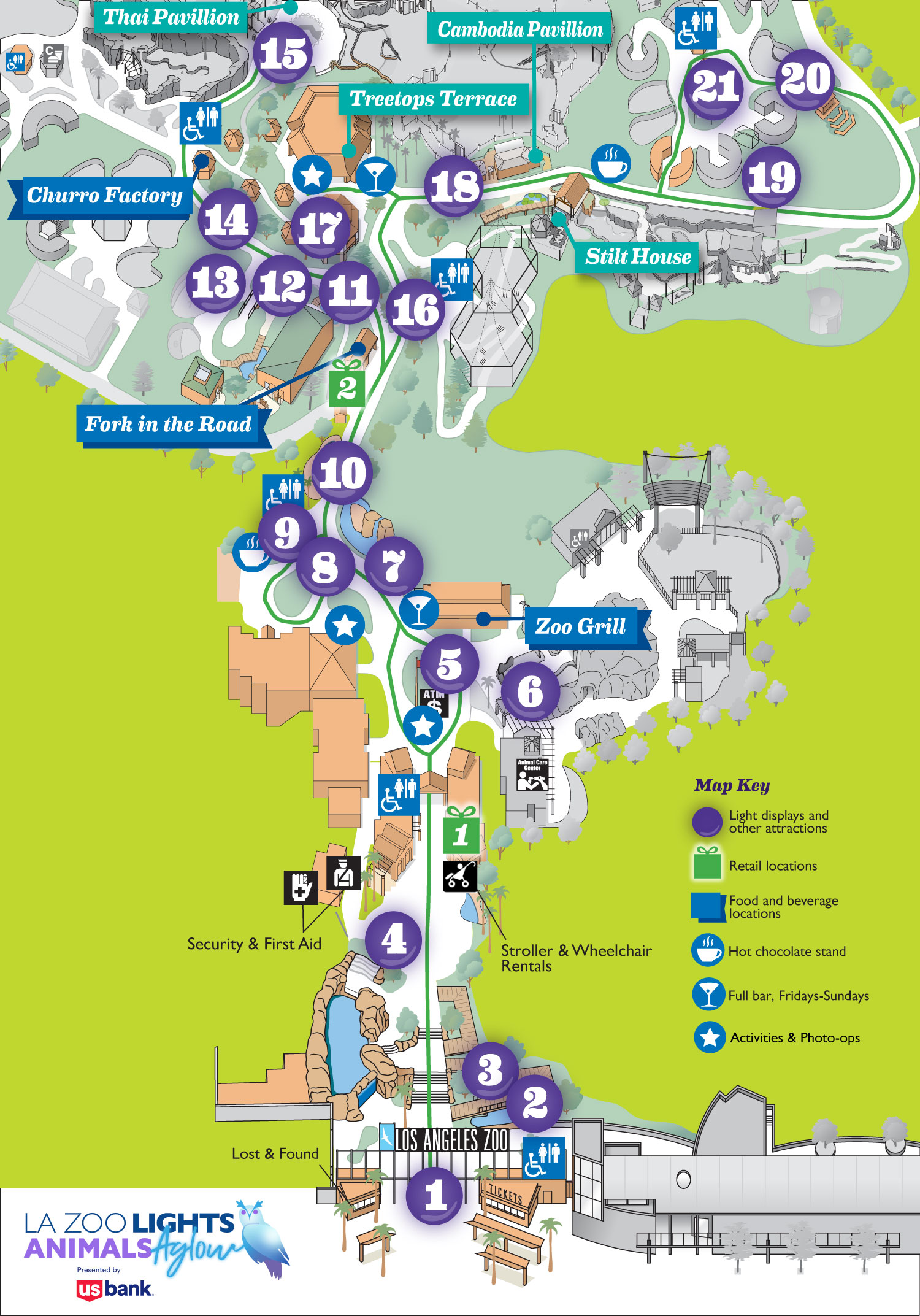 Light Displays & Attractions
Wildlife Waterfall
Soaking Seal
Riverwalk Ramp
GIANT River Otter
Merry Macaws
Galahs & Grizzlies
Bald Eagle Flight
Grazing Bison
Puma Pride
Avian Alley
Desert Walkway
Dazzling Desertscape
California Kingsnake
Big Horn Sheep
Dancing Cacti
Reindeer Road
Conservation Carousel, closes at 9:30 p.m.
Winter Walkway
Winter Wildlands
Shimmering Snowflakes
Moose Mountain
Eats & Treats
Open nightly unless otherwise indicated. Closing times may vary.
S'mores Station near Light Display 8, closes at 8:30 p.m.
Zoo Grill Full menu and assorted beers, open until 9:45 p.m.
Fork in the Road Full menu and assorted beers, Fri–Sun only
Churro Factory Desserts, hot chocolate, and soft drinks, open until 9:45 p.m.
Gifts & Goodies
Open nightly.
International Marketplace
Safari Station
Drinks
Full Bar Open Friday through Sunday.
Hot chocolate stands
Activities & Photo Ops*
Wings Photo Op near Light Display 5
Kaleidoscope Photo Op near Light Display 8
Shimmering Swings in Treetops Terrace
*Hours may vary, dependent on weather conditions.
Sponsors
Presenting Sponsor
Associate Sponsors